FAREWELL STYROFOAM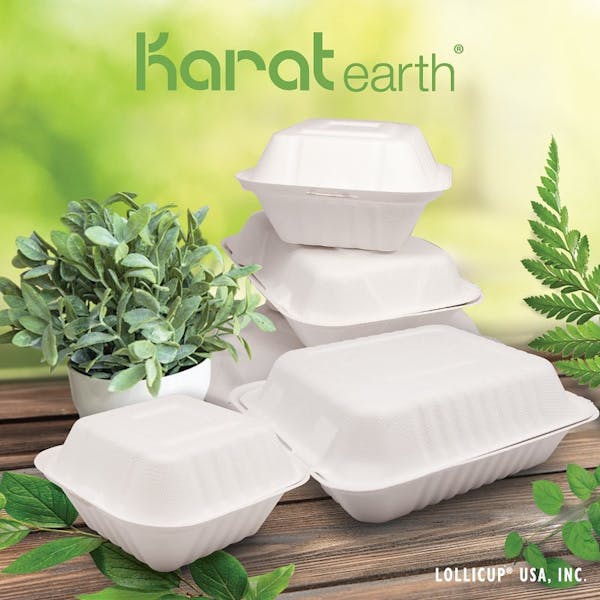 Chef Zorba's is currently using the Karat Earth® line of plant-based line of compostable products. Karat Earth provides our carry out food containers, portion cups and more, all of which are made from renewable resources. These products are sturdy, reliable and demonstrate our commitment to helping the environment.
Thanks to the many customers who have noticed our switch from styrofoam to fiber to-go containers. Yes, the new fiber, compostable containers are more expensive and not as sturdy, but did you know:
- Styrofoam does not biodegrade. It may break into small pieces, even minuscule pieces, which makes it even harder on the environment.
- Styrofoam is made of fossil fuels and synthetic chemicals. Those chemicals may leach if they come in contact with hot or acidic food. Yes, they keep your coffee hot – but they may also add an unwanted dose of toxins to your drink.
- Animals sometimes eat styrofoam. Turtles and fish mistake it for food, and that can kill them. Not only can they not digest it, but the foam is full of poisons.
- Styrofoam can't be recycled. In fact, styrofoam bans are sweeping across the country. Here is a list of cities that have completely or partially banned styrofoam (compiled by Groundswell):
New York City (and several other cities in New York)
Takoma Park, Maryland
Seattle, Washington
Washington DC
Miami Beach, Florida
Freeport, Maine
Portland, Maine
Nantucket (City & County), Massachusetts
Minneapolis, Minnesota
Portland, Oregon and several other cities in Oregon
Los Angeles County, San Francisco, and many other cities and counties in California
Many of our regular customers bring their own reusable containers for their leftovers. We invite you to enjoy our new fiber containers or bring in your own reusable container, too!